Slipstick Large Recliner Feet CB380
The Patented Large Recliner Foot is designed to clip onto a variety of recliner feet. It contains an O'ring specially formulated to PROTECT hard floor surfaces and stop furniture from moving.
Ideal For: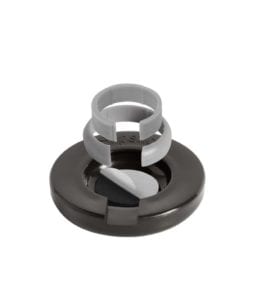 Wyn Pro Recliner mechanisms
31mm (1-3/13″) diam. recliner feet
38mm (1-1/2″) diam. recliner feet
hardwood floors
laminated floors
tiles
parquet
slate

CAUTION: Indentations may occur in Cushion Vinyl and Soft Wood floors.
Warranty
Slipstick feet are backed by a 5-year Free Replacement Warranty (Commercial Warranty 1-year). Any Slipstick product that fails due to premature wear, faulty materials or manufacture defect will be replaced free of charge.
Showing the 38mm 1-3/16″ recliner foot
Showing the 31mm 1-1/2″ recliner foot